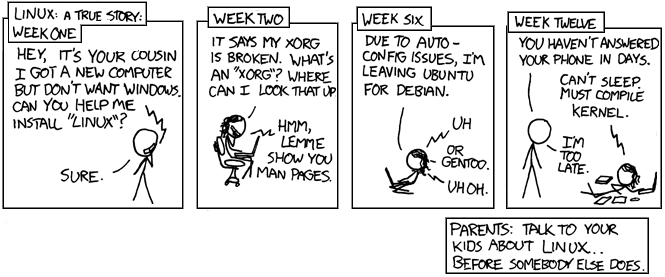 Alright so I've been programming for a while now, some college coursework, most self-taught. I play a mean C/C++ and i got plenty of hardware and OS work under my belt...love computers, always wanting to get better at development and computer know-how, but it's always been windows (since Win95 woo).
Anyways my employer wanted to put me on this C/UNIX project so I was excited because I had to learn UNIX...picked up a copy of "A Practical Guide to UNIX Systems" from my coworker and plowed through the pages with rapidly-increasing interest...I had tried to install ubuntu on an old laptop a while back but it never really got anywhere.
I spent alot of time looking at what distros I should use and settled on slackware...self-acclaimed to be the most UNIX-Like Linux distro and it looks like I would get the most learnign about UNIX systems done working on slackware...resurrected my old self-built rig collecting dust in a corner of my room, wiped the HD clean, and about 4 hours later was completely up and running with KDE
So yes, I'm now officially a Linux user, greasy hair and decreased social skills soon to follow I'm sure.
I'm also now Registered Linus User #498453
Also found out the C/UNIX project isn't gonna happen at work...but it's too late, I'm freaking hooked, tonight I'm gonna see what IDE's are available on the platform and maybe try a few out...looking at developing in C/C++, PHP, Python, and SQL any suggestions for IDE's?
Also, in order to connect to the internet, whenevr i boot up I have to configure the DHCP with dhcpcd eth0...amidoinrite? is there a way to set it up so i dont have to run that every time i login?
Anyways, cheers, lookin forward to becoming like the last panel of above