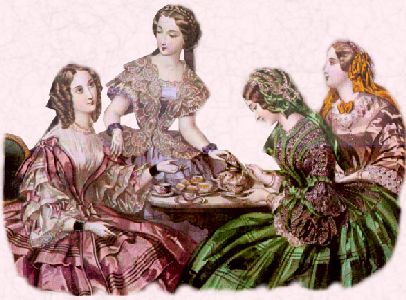 You are Victorian Lady who is trying to climb the social ladder. In order to do so, you want to collect as many calling cards from the other ladies as possible. Each Lady has the following people she cares about:
-One true friend (this is a symmetrical relationship)
-One friend who is trying to back-stab them
-One nemesis who they hate (but their nemesis think they're friends)
The ladies do not know which of their friends is true and which is the backstabber.
There are 4 days (rounds). On the first two days you must visit (give your card to) exactly 2 other ladies. On the last two days you must visit exactly 4 others.
You may talk at any time and as much as you want by going
@Lady's Name
Spoilers may not be addressed to more than one lady. You may not read any spoiler not addressed to you.
Submit your moves by going
@bluebambue
Visits are made public at the end of each day.
Points at the end are as follows:
How many cards you have * 1
How many cards your true friend has * 0.5
How many cards your nemesis has * -0.5
Players
1. Adam H
2. dudiobugtron
3. Vytron
4. Tormod
5. Snark
6. (orangedragonfire)