ok, so just random thought went streaming by and bruised my temple.
Assume you had two black holes of equivalent mass that were orbiting each other in a very elliptical orbit so that they started quite far away and came zooming towards each other only missing by a very small margin then whipping around each other and back out to their original distance. And lets say that they got close enough that they event horizons intersected but neither singularity crossed the event horizon of the other black hole so they did not absorb ach other.
basically at their closest approach they looked something like this.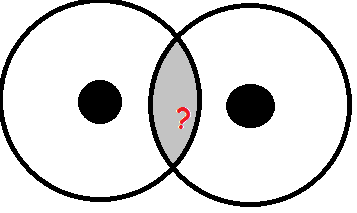 (please don't hate on me for my mad paint skills..
)
the question mark in the middle is a particle that was just chilling in space at the time and became engulf by both event horizons simultaneously. What would happen to it when they went whipping away again, it would presumably need to exit the event horizon of one or both of the black holes thus breaking the universe? I dunno but I thought I would throw it out there and see what you all thought.