ADDED ( on November 14, 2012 )
I was inspired by this xkcd comic by Randall Munroe -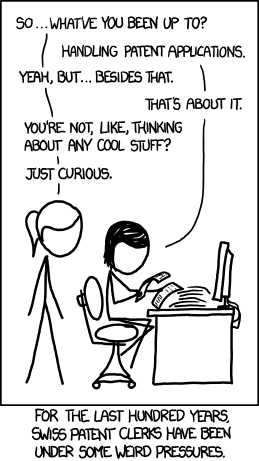 and I launched the following post
a little background info..
Woldemar Voigt, a fellow German of Albert Einstein, originated/published the base formula for "Einstein's Relativity" in the late 1880's. Voigt's work was apparent "borrowed" by Einstein...stuff like, tensors, x' = x-vt, and the speed of light being constant...
http://en.wikipedia.org/wiki/Woldemar_Voigt
Infinitely more amazing, is that Voigt's equations, used by Einstein, were wrong in 1887 when Voigt used them, and continue to be the sole basis of Relativity, via 1905, "Einstein's version", to this very day. The essence of this failure, is due their practice of relocating one of two coincident Cartesian systems, without carrying along its' inherent coordination ( nor selected points ) .
Mathematically, the equation that Einstein "borrowed" from Voigt , x' = x -vt...is invalid/wrong...as x' ( in its' system ) = x ( in its' system ) !!
This is so, because...[ my axiom ] ...origin relocation does not alter fixed coordinate point locations/values nor fixed selected point locations/values...
wrt the system in which they reside. The Galiean/Voigt Transformation violate this mathematical truth.
I have several related pages dedicated to this one issue at my site...there is a 3 question quiz...re coordinates...got an opinion ?
http://www.watermanpolyhedron.com/gg2012.html
http://www.watermanpolyhedron.com/FCWOOO_THEORY.html
here are three original related poems ...inspired by 3 xkcd comics...
http://www.watermanpolyhedron.com/art1.html
http://www.watermanpolyhedron.com/art2.html
http://www.watermanpolyhedron.com/art3.html