Monitors and resolution.
Posted: Wed Nov 11, 2015 6:35 pm UTC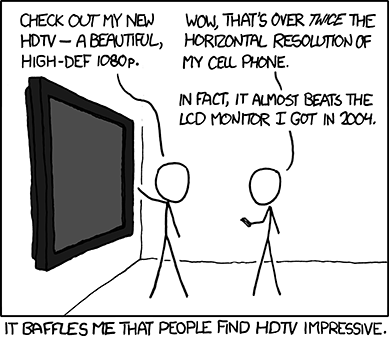 Remember this? This xkcd is from ~2010 (870 comics ago/52*3 comics/week=5.6 years), and was true since the 1980s [with VGA monitors, the Apple ][ era used TVs]. Sometime since then 4x HDTVs (3840 x 2160) have become relatively inexpensive. The catch? (and why you don't have one in front of your keyboard)? They operate at 30Hz (the cheap ones. The ones that do 60Hz all seem to match the Mac monitor prices that could do this in 2010). [My only hope is that the alt text isn't sufficiently true to keep 30Hz from being seen as a "feature"].
From what it looks like, the issues are largely getting the HDMI input and whatever DSP work needed to massage the pixels at 4x (let alone decode a 4x signal). Any guesses as to when the 60Hz monitors will match the 30Hz temptresses? For bonus points, describe an "affordable" GPU that can do 4X anywhere close to 60Hz.