Today's
What-If
: Drain the Oceans: Part II

"Supposing you did Drain the Oceans, and dumped the water on top of the Curiosity rover, how would Mars change as the water accumulated?

–Iain"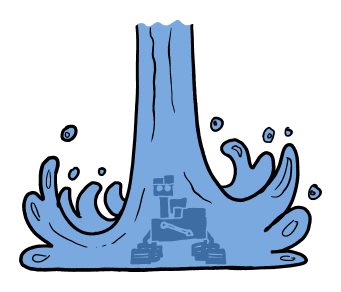 This looks like a very wet Wall-E.
Maybe the flyin' Dutchmen are yet to be underestimated. Earth should be "Netherlands-3", Mars "Netherlands-4", since they are cruising around Netherlands (formerly known as
Sol
)
9
. New Netherlands? We'll have to
wait for it
. Voyager One will tell.
9Discussion about Netherlands-9 still ongoing.