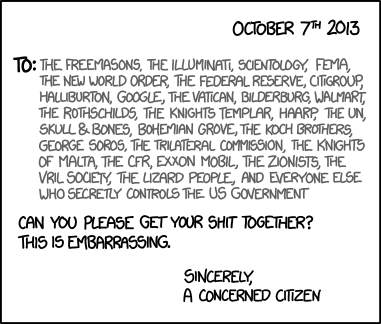 Mouseover caption:
Are you ok? Do you need help?
Here's the thing — who ever said they were all working in
conjunction
? If all these shadowy organizations really do exist and really do have actual power, wouldn't it be more likely that they'd be rivals? That would certainly explain the state of affairs better than what Randall's jokingly suggesting.
Edit: And part of that rivalry would likely involve keeping their true identities secret from one another just like they have from the general populace. I imagine each one of them only believes in half of the others at most, and that's only because, as a shadowy conspiracy themselves, they would acknowledge that other shadowy conspiracies are likely to be out there.