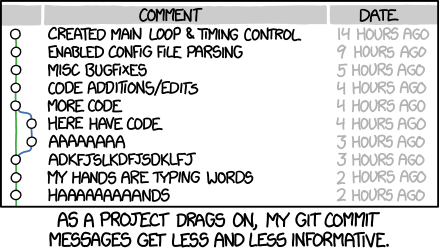 Pop-up text: "
Merge branch 'asdfasjkfdlas/alkdjf' into sdkjfls-final
"
This is so very true. If you're committing at a fast pace (especially when debugging a school project) the comments are often jibberish. That, or no comment at all, if the CVS allows it.
[edit] I was sure I copied the title-text of
this
comic, but, as ManaUser pointed out, it's the text of the previous comic. Either the site was failing or I was.