1309: "Infinite Scrolling"
Posted: Fri Dec 27, 2013 5:40 am UTC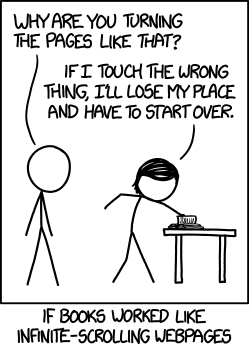 Mouseover caption:
Maybe we should give up on the whole idea of a 'back' button. 'Show me that thing I was looking at a moment ago' might just be too complicated an idea for the modern web.
I remember when Firefox was kicking around the idea that certain sites, like Gmail, would be treated as "web apps" instead of simply HTML pages with a lot of interactive elements, and that if you viewed them in a particular mode, your standard browser toolbar would disappear and be replaced with one whose buttons were geared towards the site, as if it were a standalone program. The underlying idea, I guess, was that sites like that had already ceased to function like traditional web pages with predictably-behaving navigation buttons and we might as well go all the way. They implemented pinnable "app tabs" in Firefox 4, but I never heard anything else about the idea.