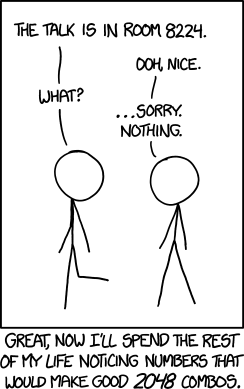 Title Text: It's taken me 20 years to get over skyline tetris.

Hold on, exactly

how

does 8224 relate to 2048?
8192, 8204, 0248 etcetera I can understand.

[edit] as explained in every post from this one on, 2048 is the title of a numbers game in which a row consisting of 8,2,2,4

might

make for a nice combo. (or maybe it

is

, but I simply don't understand why yet, as I got no further than 1024)

Admittedly, I like room numbers 1404, 1503, 1602, 1701 and 2090.