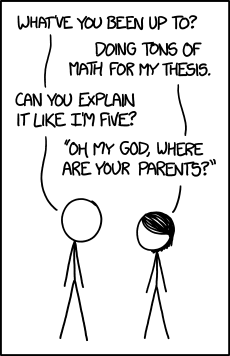 Title text: 'Am I taking care of you? I have a thesis to write!' 'My parents are at their house; you visited last--' 'No, no, explain like you're five.'
Groucho Marx wrote:A child of five would understand this. Send someone to fetch a child of five.
Technically this comic does contain the advanced mathematics mentioned in the warning below it.
A better request would be "Can you explain it like Up Goer Five?"