1723: "Meteorite Identification"
Posted: Mon Aug 22, 2016 12:10 pm UTC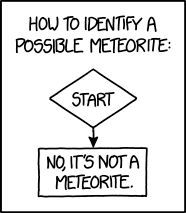 Alt text:
Click
for an actual flowchart for identifying a meteorite. My favorite part is how 'Did someone see it fall? -> Yes' points to 'NOT A METEORITE.' This is not a mistake.
Did Randall just accidentally DDOS wustl.edu? It took a couple of attempts to load it.