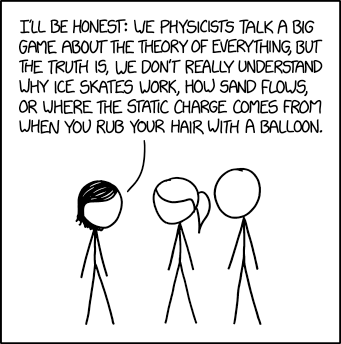 "You know lightning, right? When electric charge builds up in a cloud and then discharges in a giant spark? Ask me why that happens." "Why does tha--" "No clue. We think it's related to the hair thing."
When I was younger, I was given the pressure-melting explanation for ice skates and I took it at face value. More recently, I learned that explanation doesn't work. But I thought we at least had a good answer for the hair-on-balloon / lightning thing. A quick Googling doesn't uncover much. (
I couldn't find the Dinosaur Comic about science not knowing the answers to things, either.
Edit:
Found it
. It was one comic to the left of the one I gave up at.)