1888: "Still in Use"
Posted: Mon Sep 11, 2017 2:59 pm UTC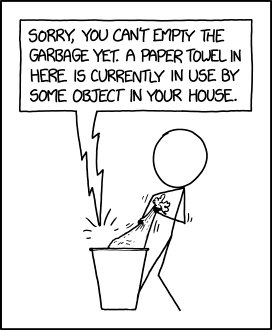 Title text:
'Which one?' 'I dunno, it's your house. Just check each object.' 'Check it for *what*?' 'Whether it looks like it might have touched a paper towel at some point and then forgotten to let go.' '...' 'You can also Google to learn how to check which things are using which resources.' 'You know, I'll just leave the towel there and try again tomorrow.'
Why not just exit the house and enter back in?