1952: "Backpack Decisions"
Posted: Wed Feb 07, 2018 2:35 pm UTC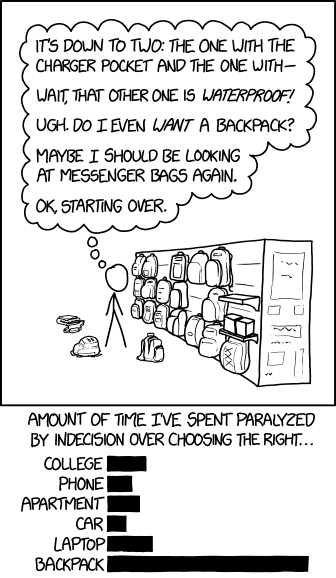 Title text: "This one is perfect in every way, except that for some reason it's woven from a tungsten mesh, so it weighs 85 pounds and I'll need to carry it around on a hand cart." "That seems like a bad--" "BUT IT HAS THE PERFECT POCKET ARRANGEMENT!"
I don't know that I'd go quite as far as this comic, but I've spent a good bit of time deliberating between bags based on pocket arrangement vs material vs strap configuration before. In my case, strap configuration tends to win - I can work around sub-ideal pockets if the bag is comfy, but if the straps are bad I just won't use it no matter how well the pockets are laid out.