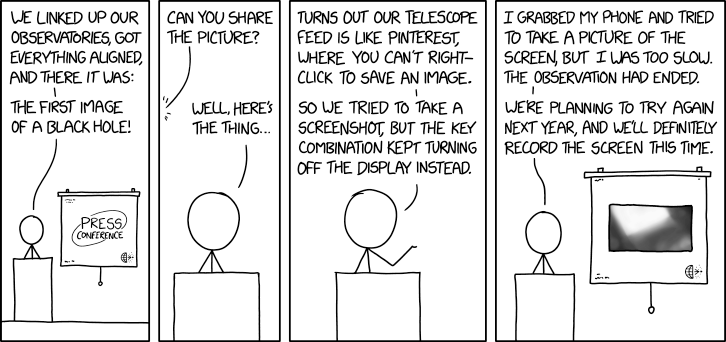 [five years later] Ok, it seems we were accidentally zoomed in slightly too far. But imagine there's a cool-looking twisted accretion disc just outside this black square!
The now nameless OP who didn't make the comic post correctly wrote:I wondered if this might be imaginary, shame on me! For more, there is this: http://www.astronomy.com/news/2019/04/the-event-horizon-telescope-may-soon-release-first-ever-black-hole-image

Lots of luck to them! You might recall that the original intent of the Keck twin telescopes in Hawaii was to do interferometric imaging over a baseline of some tens of meters, but they gave up because they were unable to obtain the requisite control over spacing. To do interferometry it is necessary to adjust the spacing to within a few tenths of a wavelength (better is better), in visible light that means to ca 0.1 micrometer, 1 ten millionth of a meter.

The reason why they are able to do interferometry using radio telescopes has to do in part with the wavelengths being ca a million times longer, but mostly because they are able to link the sites with RF and synchronize timing to within small parts of a microsecond. That's not technologically possible at light wavelengths at present.

On the other hand, maybe they are exploiting the Hanbry-Twiss effect. That might work, but the immense price paid in terms of SNR will make for some really lousy imagery.