Comic: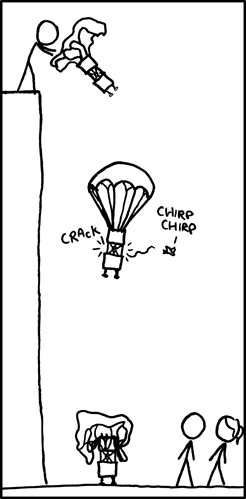 Link
Alt-text: I hear my brother Ricky won his school's egg drop by leaving the egg inside the hen.
Commentary: Ah, memories. I loved the old egg drop. I failed the test, but passed the course.
This is my first discussion thread!
Hope it lives!
Edit: Oops, forgot the link! Thanks, TheHand!
Double edit (in the form of anecdote, so as to not clutter up the thread): My egg drop came in 7th grade. We were given a set amount of materials (can't remember what they were, incidentally; I think they included a wood block, rubber bands, cardstock paper, and string) and told to built a
car
that would protect an egg if crashed into a brick or something. Mine was rather convoluted: I remember trying to apply force dispersion as well as all of the normal "padding" tricks. It failed anyway. >.> I took it home and ritually burned it, because it had failed me.