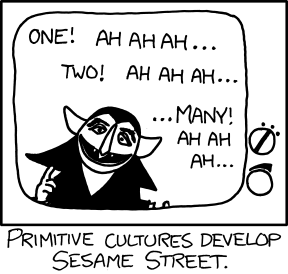 http://xkcd.com/764/
Alt text:Cue letters from anthropology majors complaining that this view of numerolinguistic development perpetuates a widespread myth. They get to write letters like that because when you're not getting a real science degree you have a lot of free time.
some primitive(or advanced) form of ternary maybe?
EDIT: randel put out an an a(nthro)pology since this was posted. it reads as such
"I'm sorry if I hurt anthropology-major feelings with Friday's alt-text.
I meant it as a friendly jibe at a cool field. I ... anthropologize."