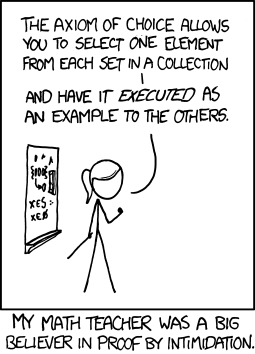 Rollover text:
Proof of Zermelo's well-ordering theorem given the Axiom of Choice: 1: Take S to be any set. 2: When I reach step three, if S hasn't managed to find a well-ordering relation for itself, I'll feed it into this wood chipper. 3: Hey, look, S is well-ordered.
Yeah... the "violent persuasion approach" that works so well for things like getting a stubborn engine to run isn't especially useful in the more abstract sciences.
Actually, the alt-text reminds me of another comic we had hanging up in our math classroom back in like eighth grade, where someone is doing some calculation on a whiteboard and between two steps he writes "Then a miracle occurs..." with arrows showing the progression to and from that step. And the professor next to him says something like "You need to be more explicit here in step three."
(This one must have been just late enough for people to stop refreshing. Or are you all too busy camping out in front of stores for Black Friday? Heh.)