0999: "Cougars"
Posted: Wed Jan 04, 2012 7:43 am UTC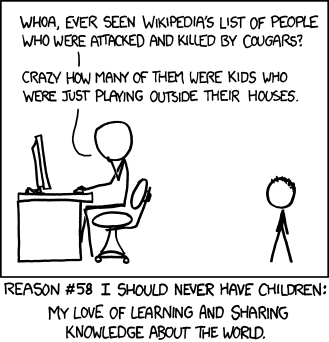 http://xkcd.com/999/
Alt text: "If you're lying in bed tonight and you see yellow eyes glinting in your window, are you being stalked by a puma, a mountain lion, a panther, a catamount, or a cougar? Trick question--in North America, they're all names for the same species, Puma concolor! Isn't learning fun? Anyway, sleep tight!"
Among other things, I honestly never want children because I know that my kids will not appreciate the random useless info that I know.