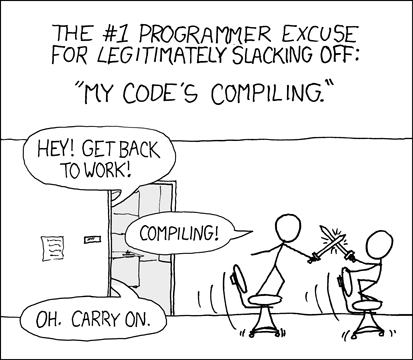 Alt text: "'Are you stealing those LCDs?' 'Yeah, but I'm doing it while my code compiles.'"
Or I'm testing my video encoder, or I'm "stressing the CPU" with a nice game of Half Life 2... oh, excuses!
I've also, upon finding myself a user on a Linux system, recompiled all the basic utilities (even the compiler) from scratch, put it in my user directory, and aliased everything to use them instead. For no good reason at all, from what I can come up with. Except maybe to waste tons of CPU time. (But GCC is
so much faster
with -march=opteron!)
Who here has intentionally compiled their code without -j2/-j3/-j4 or such to make it take longer?