Sorry about the diagram, I just did it quickly in GIMP.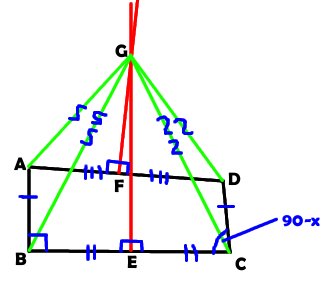 As shown in the image above:
ABC is defined as a right angle;
BCD is defines as 90 degrees minus x;
AB and CD are defined to be of equal length;
G is defined as the point where the two perpendicular bisectors (EG and FG) meet;
As ADG is isosceles AG and DG are clearly equal;
As BCG is isosceles BG and CG are clearly equal;
Angle GBC and angle BCG are clearly equal due to being on the inside of an isosceles;
(GBC=BCG)
Triangles ABG and CDG are congruent so angle ABG is equal to angle DCG;
(ABG=DCG)
ABG+GBC=DCG+BCG
90=90-x
???