MicroBlitz report, NP1365-NP1378
Looks like the madness of multi-quadruple-posted multi-spoiler hell from last weekend has ended. Let's give it another try...
I'm glad it stopped, but not that Prof. Grumbles appears to have left with them... I hope he comes back (again). (As I do for other quitters who managed to sneak by BlitzGirl's molpy army.)
As usual, lots of ⁴ manips, OTTherComics, colorizations, rONGs,OSHes, Molpy art, newONGs, etc.; way too many to call out.
Yay, more ⁷terful Acts from
ucim
! Those alone are more than enough reason to be here...
⁴fulsome ottifications by
svenman
,
rvloon
,
yappobiscuits
(with mp³!),
patzer
(but I had some trouble reading it, can't you mp³ it?),
Neil_Boekend
,
airdrik
, two from
Angelastic
(esp. the second is hilarious)!
A new Heretical Comic from
Vytron
! ⁴! (That had been a while... We want more!)
A ⁷terfully melancholic OTRSv4 poem by
BlitzGirl
. OMBG...
And an Awesomeful mp³ification of BlitzGirl's OTRSv2 by
yappobiscuits
! OMYB
and
OMBG... (And 'tubed by
Latent22
, ⁴!)
That What d'If looks and sounds tasty,
mikro2nd
! I wish I could drop by to have a taste...
No news from the
epilogue sequence
, we're still in the 4th 24-oldpix cycle.
Yes,
slinches
, it's fully automated. The cycle detection was not so tricky, actually – but I'm only checking for 24-oldpix cycles, that simplifies things a lot.
So much more I would've responded to if I weren't desperately trying to reach the present...
... and I'm there! For the first time in wix, let's see how long it lasts.
To celebrate, here's an animated gif. (Not trippy, I think, so unspoilered.) Since there's no molpy hunting
grapevine
and giffing to do, the next best thing: an animation of the epilogue so far, sped up 18000×: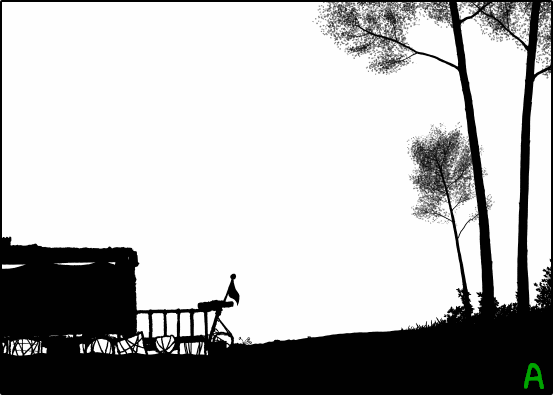 grapevine: except in the newONGs, but I've been ninja'd there, of course
ETA: Page pope... Decree: keep it up with the ⁴ ottifications, manips, OTTherComics, colorizations, rONGs,OSHes, Molpy art, newONGs, etc!