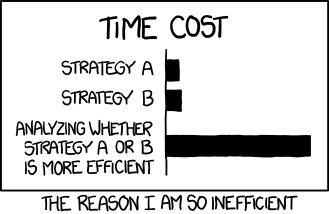 Title/alt text:
I need an extension for my research project because I spent all month trying to figure out whether learning Dvorak would help me type it faster.
(EDITED to put title text in quote rather than spoiler. Sorry to get to it so late.)
The fact that stategies A and B are equally worthwhile reminded me of
Buridan's ass
.
This is the first comic thread I've started, so let me know if I did anything wrong. For some reason, I felt like doing it in a hurry rather than taking a while to determine how to do it exactly right…