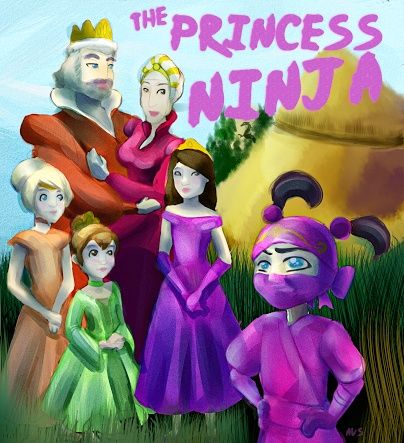 (Sample cover art only.)
Inspired by conversations with my own Princess Ninjas,
this is a story about being who you are.
Short Summary
A couple years ago, I had a little conversation with my daughter.
Her: Dad, give me two things to draw, together.
Me: Uhm... doctor Tyrannosaurus.
Her: I drew that already. Something else.
Me: Uhm... princess ninja.
Her: DAD! I said two things that are DIFFERENT! Princesses are ALREADY ninjas!
That was a very educational conversation for me. Both my girls enjoy writing little stories, but I suddenly had a great mental image of a classical fantasy royal family, with one princess being... a little different from the usual.
The story has been written for quite some time, but I've not been able to find a reliable, affordable illustrator (affordable for someone without any money, at least). I occasionally print out copies without any artwork at all, and let my daughters illustrate them, but they keep asking me when they can see a REAL copy.
Hopefully, with your help, they can.
There is only 9 days to go for this project, and we're already at 82% of the goal! WE'RE SO CLOSE!
An Excerpt From The Story
In a faraway kingdom that you've probably never heard of
A young princess was born on a cloudy spring day.

She had three older sisters, all princesses,
(because that's what happens when
your mom is the Queen, you know),
But she was not like them.
Her sisters were all born Princesses...
But she was born a Ninja.

The King and the Queen were quite distraught.
"A ninja for a daughter!" they moaned. "The shame!"
They filled her life with Princessly things,
like ball gowns and ponies and tea parties and games,
but it was no use.

Her sisters ate teacakes and
Princess Ninja ate octopus.

Her sisters drank honey tea and
Princess Ninja drank hot sauce.

For dessert, her sisters had ice cream sundaes.
And so did Princess Ninja...
because even ninjas like ice cream.

In their desperation, the King and Queen turned to Sir Zephyr,
the Royal Retainer, wise in the ways of honour and nobility.

"Help us, most honourable Sir," they pleaded,
"Princess Ninja is hardly a Princess at all!"

As the months went by, the King and Queen grew impatient.
"Well?" they asked one day. "Does she still think she's a Ninja?"
"Of course," said Sir Zephyr. "She was born a Ninja."

"But she's a Princess!" they insisted.
"Of course," said Sir Zephyr. "She was born a Princess."
- - - - -
Princess Ninja sets out on a quest to find someone who truly understands her: a pet. What sort of pet would a Princess Ninja choose? Why, nothing short of a dragon.
On her journey, she discovers that sometimes even she can have misconceptions, and sometimes the most important thing you can find is a friend.
What We Need & What You Get
I've gotten quotes from several online and local publishers, as well as sampled finding an illustrator on Elance. Of the roughly 24 submissions I received on Elance, I found 7 or 8 that were skilled and highly-rated. I am budgeting approximately $1000 for publishing and $850 for illustrations, and $150 for incidentals (shipping, displays, advertising, etc).
I already have verbal agreements with the libraries in the Okanagan, as well as the library in Prince George, to carry the book, as they love to support local authors. Many other local bookstores sell local authors' self-published books, and Books & Co. has agreed to sell Princess Ninja when I can supply them with copies.
And, of course, there are copies for all of my supportive friends and family!
Other Ways You Can Help
Spam my link
Tell your friends
Support your local authors!