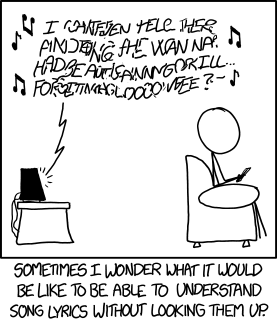 Title text:To me, trying to understand song lyrics feels like when I see text in a dream but it𝔰 hอᵣd t₀ ᵣeₐd aกd 𝒾 canٖt fཱྀcu༧༦࿐༄
... And this is the part where we start Googling song lyrics. The last line's "Forgetting love", and I think the opening is "I can't even." Does anyone read Randallese better than I?
Edit: Edited to correct copy-paste-fail and include edit note.