Fire From Moonlight
Rogier Spoor wrote:Can you use a magnifying glass and moonlight to light a fire?
xkcd wrote:At first, this sounds like a pretty easy question.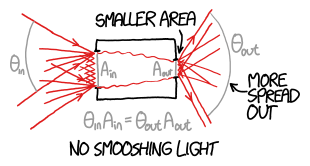 Why can't you "smoosh" light? Go from θOut to θIn and light is smooshed.
Also assuming the mirrors and lenses are lossless, wouldn't you be able to add the light from multiple different angles, using multiple mirrors and lenses, effectively creating a point source?
And an alternate option is LOTS of solar panels powering a bulb, or spark ignition source, but that is off topic.