Cueball, stop pickUNG your nose...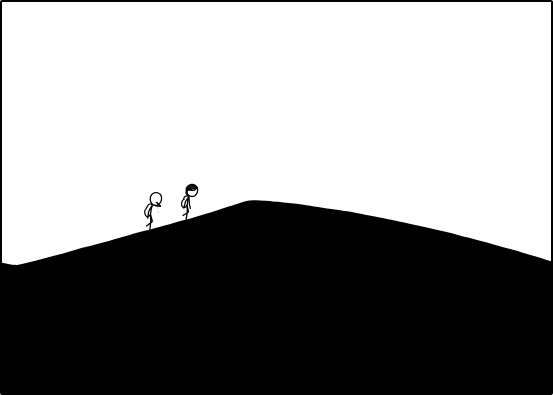 OTT Time Travel: Newpage 601
ZoomanSP wrote:Or is it...
Faster than a speeding keyboard, able to leap tall baobabs in a single bound!
ucim wrote:I suppose better a cupsnake than a snupcake. But maybe not. I'm not sure.
There seems to be some disagreement as to whether a snupcake is a
snakecupcake
or a
snailcupcake
, according to Google.
taixzo wrote:I was just reading comments on a Hacker News article, and someone

linked to a post on mrob27's website.

Interestingly, the article itself is about a cave, and discusses the ramifications of radioactive water from Chernobyl seeping through it (or the lack thereof). It's

all

related!
Wow, treeish find. That's one of the more epsilon examples of Outside
RELATED
ness I've seen!
thunk wrote:

BlitzGirl, or maybe somemolpy else wrote:Aren't there any Megsetta shippers?

Count me in!
Hurray! Serves Cue right for missing his opportunity with Megan...
Optional decree:
Why is Megsetta an ideal relationship?
Alternatively, find a new companion for Cue.