For those who don't know, Equifax is a big credit company in the USA. In effect, whenever you take out a loan or open up a bank account... the bank will then double-check your information on Equifax. In effect, this allows Bank of America to see your "credit history", even if your last loans were from Chase bank.
In short: Equifax is one of the companies that determines your "Credit Score". Every single loan you've ever taken out in the USA has been tracked by Equifax. And they've been hacked. An estimated 143 Million Americans are tracked by Equifax, aka literally fucking everybody. This is the most serious hack I can think of, there have been larger hacks (such as Yahoo), but those were just usenames / passwords. Equifax seems to have lost everybody's social security numbers, addresses, and so forth.
https://investor.equifax.com/news-and-e ... -213000628
The information accessed primarily includes names, Social Security numbers, birth dates, addresses and, in some instances, driver's license numbers. In addition, credit card numbers for approximately 209,000 U.S. consumers, and certain dispute documents with personal identifying information for approximately 182,000 U.S. consumers, were accessed. As part of its investigation of this application vulnerability, Equifax also identified unauthorized access to limited personal information for certain UK and Canadian residents. Equifax will work with UK and Canadian regulators to determine appropriate next steps. The company has found no evidence that personal information of consumers in any other country has been impacted.

Apparently, checking the Equifax page to see if you're affected has a little disclaimer in the corner:
https://twitter.com/zackwhittaker/statu ... 4331142144
Those jackasses. Well, fuck.
Equifax expects only 182,000 are affected, but how much faith should we place on that? If you're in that pile of 182-thousand, then you're fucked. All your information is now out there. And Equifax, as one of the "Credit Score" gatekeepers, has all of our information anyway. So its not like we all aren't at risk here from their incompetence.
------------------
Also, the Equifax page is an advertisement for their credit monitoring service. And signing up for it waives your right to a class action lawsuit.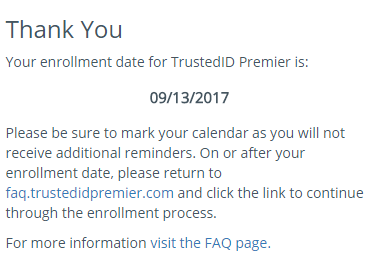 So Equifax is a bunch of jackholes. They're trying to spin this into their advantage. For cripes...