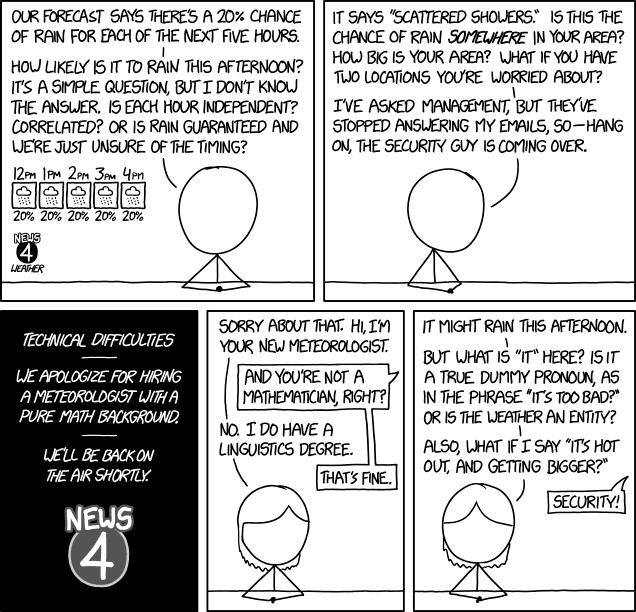 Alt text:
Hi, I'm your new meteorologist and a former software developer. Hey, when we say 12pm, does that mean the hour from 12pm to 1pm, or the hour centered on 12pm? Or is it a snapshot at 12:00 exactly? Because our 24-hour forecast has midnight at both ends, and I'm worried we have an off-by-one error.
I like this one! The questions the math guy poses are good especially given how forecasting is done today. It's still amazing to me that we are able to predict the weather with any degree of accuracy — sure, the models aren't all that good beyond a few days out, but it's such a complicated system with
so many variables
that it's amazing that we can get anything at all. And yet people still get fussy when they say there's a 20% chance of rain, and it ends up raining :p
I really like watching when "forecasting" switches to "nowcasting" — it's really neat. Like how the SPC changes stuff as a system is in progress. It seems to me like that's where a lot of the difficulty in meteorology lies — sure, it's not easy to figure out how to put together a coherent forecast from models, but it seems like accurately forecasting an event that's basically in progress without necessarily having up to date model runs to rely on is hard.