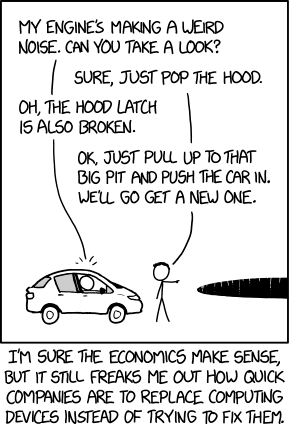 Title text: Just make sure all your friends and family are out of the car, or that you've made backup friends and family at home.
The economics might make sense for the producer, but I'd like to see some math on how it makes sense for the consumer. I could see it if I regularly had to fix/repair something on my phone every 6 months or so such that the total cost over (the next) 2 years is similar to just buying a new one, but the only cost on my current LG G4 since I bought it 2 years ago (already obsolete except the fact that it cost nearly half as much as the latest-and-greatest) has been one repair about a year ago and the original purchase (plus a few charging cables here and there).
Of course an old car is another story as we periodically sink a few hundred $ into ours every 6 months to a year to fix issues (i.e. more than the present value of the car), plus gas. At some point we should probably go ahead and get a newer car - especially one that gets better MPG and shouldn't need more than basic maintenance for the next N years (all-electric would be nice). But then again this is a 20+ year old car with >200K miles on it. It still runs pretty well, so my plan is to keep using it for another several years at least.
Additionally, we still have an analogue TV with a digital-analog converter box and we finally replaced our 11 year-old computer last year because it actually had fallen sufficiently behind that it was having troubles doing much at all (granted I know of a few linux distros that could be used to resurrect that old thing, but I haven't bothered).
Perhaps I'm just artificially limiting myself by being too frugal in my use. On the other hand when what I have already works the way I need it to, what am I really missing out on?
I think it's expected to freak out at the replace-when-old culture that we've cultivated in the last 10 years. It used to be that things were built to last and that you should take care of them so that you wouldn't need to replace them unless they were broken beyond repair.